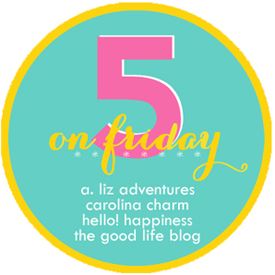 Happy Friday!!!!! I'm actually sad to see this Friday arrive since it means the end of our week at the beach. It's been such a laid back and relaxing week. Alarm clocks are going to come as a rude awakening next week.
So without further ado, my 5 on this Friday
One (year ago) - Dinner at
L'Auberge Chez Francois
to celebrate our 4th anniversary. Easily in the top 3 meals of my life. As we were sitting down we hear the woman at a nearby table declare "This is the best carrot I have ever tasted", so clearly we had to order something with carrots. When hubs' dinner came it it did indeed include THE. BEST. CARROTS. EVER. Weird memory from that night, but that place is so stinkin' good. Also, the Baked Alaska. GET IT. You're welcome.
Two (years ago) - Celebrating our third Anni in the Dominican Republic. We got upgraded to a suite bigger than our condo and then spent the whole week daydreaming about buying a bigger house. The house we ended up buying had an Open House the day we got back so we were off the plane and straight to see the house we had been obsessing over on Red Fin. After some drama with it getting an offer before we could work out financing (sad) then that one falling through and our offer being accepted the minute we found out it was available again (HAPPY) it would finally be ours.
Best friend to make at the resort?
The bartender who saves you the good beers every night.
Three (years ago) - Spent our second anniversary in Chicago. What a fun city, but they weren't lying about it being windy. That place was cold!!! We had such a blast exploring the city and had some of THE BEST FOOD. I can't wait to go back someday and explore the city even more.
(minutes before my camera died and I had not brought my charger)
Four (years ago) - Our first anniversary!!! We went to New York City and planned our entire itinerary around our lunch and dinner reservations. So glad we took an entire week there, there is so much to do and we didn't feel rushed through anything. It rained for several days and we had to make a purchase of rain boots while there, those things are still kickin and one of my favorite items I own. We were on The Today Show asking the financial experts about 2nd mortgages (that wouldn't come into play for two more years when we pulled the trigger on the town house (see #2 above)) We went to
Peter Luger
for our anniversary dinner and stayed at
The Pierre
for the night. Amazing dinner, even more amazing hotel. I've never felt so fancy.
We totally saved the top tier of our wedding cake and carted it up to NYC on the train.
Five (years ago) - BEST. DAY. EVA. I can't even sum it all up in a few sentences. The whole day was a dream and I got to marry my best friend. Totally had the time of my life.
Love you Hubs!!!! Cheers to our first FIVE years and here's to the next five (and then the next five and the next five....)