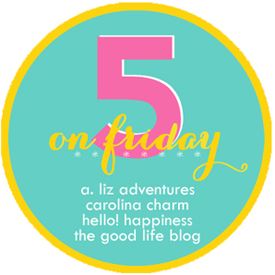 In sticking with the blog o sphere's theme of goals and intentions for the New Year, I'll dedicate this Five on Friday to my Five goals for this month.
So in no particular order....
One
- I have a HUGE backlog of magazines all around my house. I have a stack by my bed, a stack by my chair in front of the tv, a stack in my car, and who knows where else they pop up. My first goal is to be through this backlog in January. Anything not read by February 1st is getting trashed (recycled)
On a related note, I have been working my way through my Real Simple back issues and came across the "Your Words" section and remembered that I had responded to an email prompt from them this summer about Tips for Getting your Day off to the Best Start. I replied that
just making my bed can make me feel more productive and kick off the day on the right foot. I was contacted by an editor asking to elaborate, so I wrote a few more sentences and never heard back. They paraphrased the heck outta my comment, but I made it into the issue! My name is in print!
Two
- Kick off the diet on the right foot. I've done this the past two Januaries and am trying it again, Sober January. I take the month off from drinking to try to kick start my diet. The first year I lost like 14lbs (which obvi didn't stick since I ended up GAINING weight in 2012) and last year was closer to 7. My heart isn't in it so much this year since the number on the scale wasn't as scary as the past two years, but I'm going to give it my best shot anyways.
Three
- Half Marathon training. Hubs and I signed up for a half marathon in DC on March 15th. The first couple of runs have been good, but I haven't been sticking to my training schedule very closely. I want to make running my priority for the next 10 weeks so I can do the best I can on race day. So far I've only been running twice a week, but have been getting in the "long" runs, currently 4 miles, bumping up next week. I know I'm going to have to start getting the weekday "homework" miles done if I want a fighting chance at surviving the weekend runs once they start getting more substantial.
Four
- Try some new crockpot recipes. My sister gifted me with several cookbooks for Christmas, one specifically for crockpots. I have already gone through and marked the dozens of recipes I want to try. Before the end of this month, I want to try at least three or four to find some we can add into our weekly/monthly rotation of regular meals.
Five
- Complete my blog post about our trip to London. We had such a fabulous time, I really want to document the trip in more than just a file of pictures on my computer that we'll forget details about along the way.
So instead of setting a year's worth of goals, these are just the things I want to get through this month.
Are you setting resolutions for the whole year or are you breaking it down into monthly goals you want to accomplish?